Weavers Way - Second Half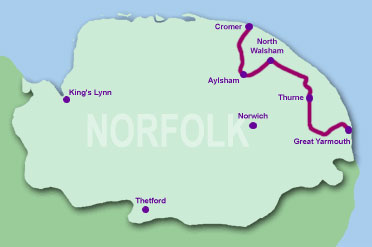 Distance: Weavers' Way total 60 miles. Breaks down from two to seven sections
Time: can be completed in two to seven stages.
Terrain: Mostly flat, a wide variety of terrain - open country and crop fields, woodland, dismantled railway, marsh, road (roads tend to be lanes).
Map: Ordnance Survey Explorer 252 and OL40
My last walk: Walked the 30 miles Yarmouth - Stalham on 24 March 2013

The first half of the walk is here
(image above courtesy Norfolk County Council)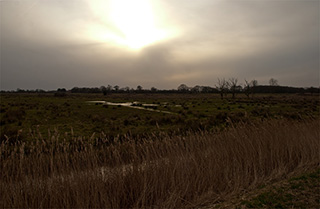 This half of the walk shows the classic face of Norfolk; the broads, reeds, windmills, a flat horizon and huge skies.
The route is clearly marked on Explorer 252 and OL40. The second half, Stalham to Great Yarmouth, is covered and clearly marked on OL40. Pubs en route are also shown on those maps. There's also a very good guide on Norfolk County Council's website. They split the walk into seven parts with information about each of those parts. Weavers' Way at Norfolk County Council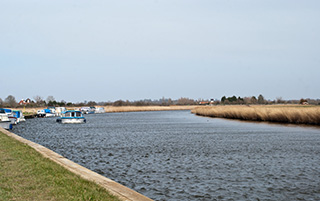 Despite the marshland, the footpath is very good (stout footwear still required). The section between Stalham and Hickling is mostly road with views over fields. It's quick and easy walking but take care.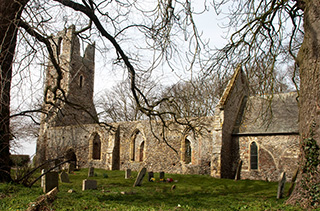 The Hickling broad section is good footpath through nature reserve. Hickling Broad to Acle is riverside.
Acle to Berney Arms is marshland, with a better, firmer path than you might expect, and from there to Yarmouth is a banked path around Breydon mud flats.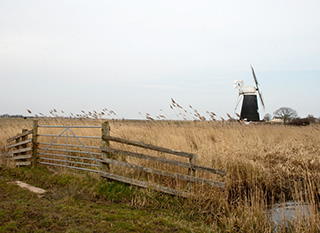 Services are available at:
Stalham TG373251
Hickling TG408225
Potter Heigham Bridge TG420185
Potter Heigham Bridge TG420185
Thurne (includes loos) TG403158
Acle Bridge (includes loos) TG414117
Halvergate TG422069
Berney Arms (public house) TG467052
Great Yarmouth TG532077
My own comments about the Stalham - Great Yarmouth stretch:
The Broadland flood alleviation scheme is a 20-year programme of work along Broadland's river banks. There will be path closures for a long time to come. Diversions are provided where possible and are well-marked.
When I last walked this path March 2013 a long diversion was in effect between Acle and Thurne because of river defence work. It's promised to be closed for a period after the work finishes to allow vegetation to re-establish. Check with Norfolk County Council to find out whether the diversion is still in effect, but it is easy to follow. Be prepared for it to add a couple of miles to your journey.
Another closure has been planned between Berney Arms and Yarmouth after the Easter weekend 2013. No word on how long for. The signs say no alternative provided and suggest using the train. Check in advance whether this closure is still in effect, and if so, check the train times in advance.
There's a lot of road between Stalham and Hickling Broad. It's quick and easy walking, but do take care. Walk single-file on the right hand side (facing the traffic) except for right-hand bends. Step onto the verge for cars if possible.
The waymarking is generally very good but I found a couple of places where there's a choice of ways and no discs, TG409089 . Don't be without a map.
I read on North Norfolk's site that the marshes between Berney Arms and Halvergate can be boggy, and to wear appropriate footwear. I'd go along with this, I was glad I'd bothered to wear gaiters with my boots. But it's not as bad as I'd feared; even after wet weather, the path itself was very good.
It's great to see public conveniences along the route, but I found all locked up, only just out of season (the sunday before Easter)
---
This walk on Flickr:
---
blog posts about this walk:
---
This walk uses Ordnance Survey maps Ordnance Survey Explorer 252 and OL40