Weavers Way - First Half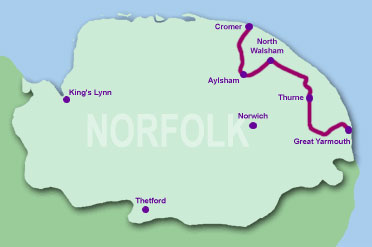 Distance: Weavers' Way total 60 miles. Breaks down from two to seven sections
Time: can be completed in two to seven stages.
Terrain: Mostly flat, a wide variety of terrain - open country and crop fields, woodland, dismantled railway, marsh, road (roads tend to be lanes).
Map: Ordnance Survey Explorer 252 and OL40
My last walk: Walked the first 30 miles on 7 April 2012

The second half of the walk is here
(image above courtesy Norfolk County Council)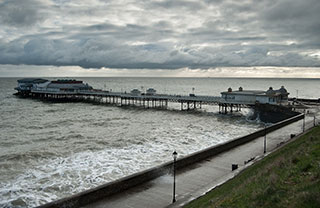 Weavers' Way is a National Trail and one of Norfolk's long-distance paths. The name reflects Norfolk's important place in textile history. The route joins Cromer pier and Yarmouth's piers.
At 60 miles, it's not possible to do in a single day but it is possible to do in two halves or as a series of shorter walks. The walk is linear, so some use of public transport or arranged lifts will be necessary.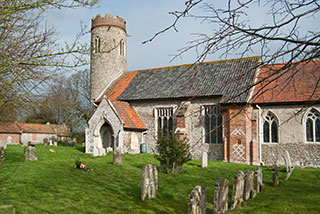 The route is clearly marked on Explorer 252 and OL40. The first half of the walk, Cromer to Stalham, is covered and clearly marked on E252. Pubs en route are also shown on those maps. There's also a very good guide on Norfolk County Council's website. They split the walk into seven parts with information about each of those parts. Weavers' Way at Norfolk County Council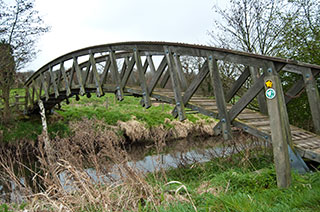 If you believe that Norfolk is flat, the climb as you leave Cromer (or arrive at Cromer if you're walking the other way) will change your mind. The Cromer Ridge was formed during the ice age. However, the rest of the walk is fairly level, partly because sections follow old railway line which has cuttings and embankments.
If you're not familiar with Norfolk, you may find the countryside more rolling than you expect, particularly the first part of the walk.
The start and finish have car parking and facilities and the route passes through a number of towns and villages on the way which also provide parking and facilities.
The first part of the walk, Cromer to Blickling, stands as a great 16-mile walk with beautiful countryside and good paths.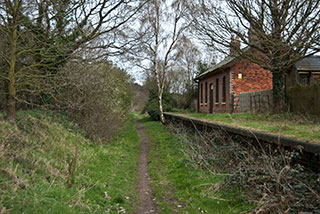 Services are available at:
Cromer TG219423
Felbrigg Hall TG193394
Aldborough TG184343
Erpingham TG192320
Blickling Hall TG179286
Aylsham TG192268 (about 1/4 mile off-route)
North Walsham TG283303
Stalham TG373251
This list covers the first half - Cromer to Stalham. There's another list for the second half
My own comments about the Cromer - Stalham stretch:
The route is very well waymarked with the green and white discs (but take a map, don't rely on these). However, I didn't spot any at the start of the walk between Cromer pier and Zoo. You will also need to use your map to find your way through North Walsham and out onto the old Yarmouth Road.
---
This walk on Flickr:
---
blog posts about this walk:
---
This walk uses Ordnance Survey maps Ordnance Survey Explorer 252 and OL40