Walks
iPhone app
A new approach to navigation
Deviation: iPhone app
A new approach to navigation
It's right not to rely on electronic devices for navigation. But veering off your planned route is very frustrating and costly. Walking even a mile the wrong way before you realise and having to retrace can add 40 minutes to your day.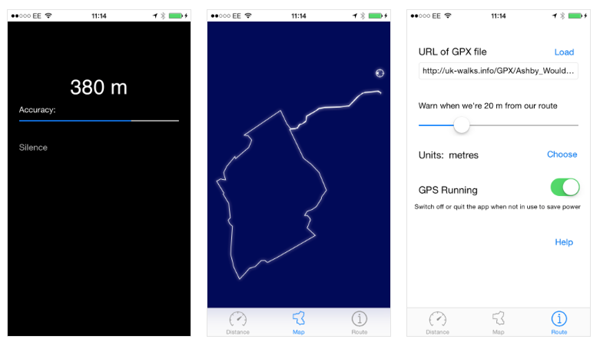 Load Deviation with your planned route, put it in your pocket (it runs in the background and when your phone is locked) and it'll buzz when you go off-course. Then its little pointer will point you back to your route.
It won't show a map but this is a positive thing. In testing we've found the pointer a very quick and easy way to get back on track, particularly in areas without obvious paths such as woods.
Simply turn yourself until the pointer points back at your route and walk.
It opens your route in GPX format. Any device, mapping app or website that allows you to plan a route should export your route as GPX. Email the file to yourself, click a link on a website or type / copy & paste the url of the file.
Some of my routes are provided in GPX format and I'm working on making more of them available in this format.