Walks
iPhone app
A new approach to navigation
Rutland Water Normanton - Empingham Circular Walk
Distance: 7 miles
Terrain: fairly flat, mostly road and surfaced path
Location: Rutland / Leicestershire [location map]
map: Ordnance Survey Explorer 234 (rutland water)
View the route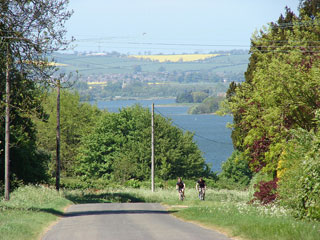 This walk is a short distance and mostly uses good surfaces but has fabulous views, and so will be ideal for new walkers or those unsure about venturing far off the beaten track.
Alternatively, the loop can be used to add a few extra miles to the main reservoir circular walk.
Start at the visitor centre at Normanton, SK931056. This centre has a car park with toilets, cafe. Walk out of the car park entrance, turn left and walk along the road a little way to the junction with a road on your right. Cross the road with care and walk up that road. It climbs and gives you views back over the reservoir
After a mile and a half (just before bluebottle cottage), fork left, then at the next junction carry on straight onto the farm track. Enter the field where signposted and then turn left at the next gate, keeping on the same side of the hedge. Follow the waymarkers in a straight line until you meet a road once more. Follow this road into Empingham.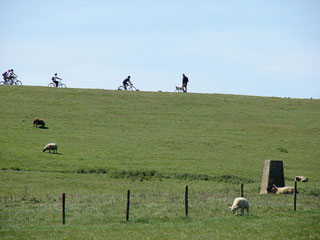 After the church, look out for road signs telling you 'no access to Rutland Water' which is not true as long as you're on foot! Two roads to the left have these signs, you can take either, and look out for the fingerposts for the footpath.
There will be no views of Rutland Water here because you're lower than the dam. Initially the path will descend, but then begin to climb when you will see the dam and probably see people cycling and walking across it.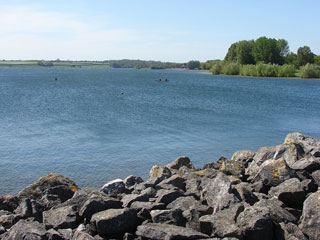 At the dam you will join the busy circular route around the Water and should have no problem following the path back to the visitor centre. The dam is a lovely walk with views over both arms of the reservoir and back over You will pass Normanton Church museum which was rescued from the water when the valley was flooded and is well worth a visit.
---
Osprey webcam at Lyndon Nature Reserve - Rutland Water is home to the first Ospreys to breed in England for 150 years. View the webcam
---
View the route
The link to the right will show you an interactive map with the route shown on it, provided free to you at this level of detail by the lovely folk at OS. The detail on it will be the equivalent of the Landranger map (1:50,000). For the full detail and a map you can carry around the walk with you, you will need an explorer (1:25,000) map. Please use the link below to buy a copy.
---
This walk uses Ordnance Survey map Explorer 234 (Rutland Water)

Free Desktop / Wallpaper images
If you've enjoyed these photographs of some of the beautiful views and things growing and living in our countryside, why not use one as your desktop image?