Lathkill Dale and Youlgrave Circular Walk
Distance: 13 miles
Terrain: some steep climbs. Total ascent: 200m (lowest point to highest point)
Location: Alport, Youlgrave, Middleton, Peak District. Start point SK221646
Map: Explorer OL24 (White Peak)

Summary: Starting at Alport, along the Lathkill Dale, onto Limestone Way via Moneyash, Midshires way and on to Middleton, back to Youlgrave.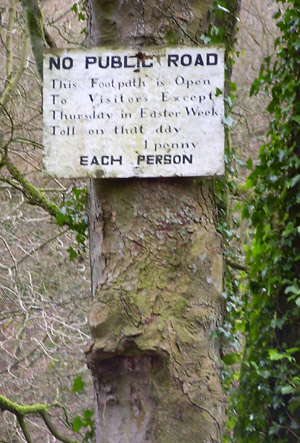 The first half of this walk is down in dales and cycle routes and is beautiful. From Alport, use a track to get to Over Haddon, and then down into the Dale. The first part of the path alongside the water is marked with a brown line before changing to green later on. This means that it's not a public right of way, but some kind of concessionary path. It obviously has some history, because you first see this old sign which explains that it's free to use the path, except for the thursday of Easter week, when the toll is one penny!!
The map shows a good flow of water emerging apparently from nowhere. Look out for this point - there's a large cave mouth which springs forth the water, unless it's been very dry, in which case you can still see the cave but without the water.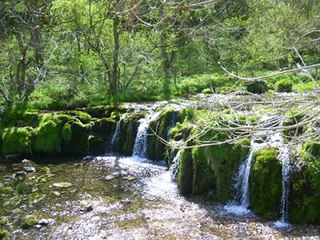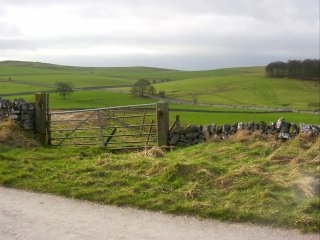 The cycle path, an old railway, can be a bit flat and uninteresting in places, but has its moments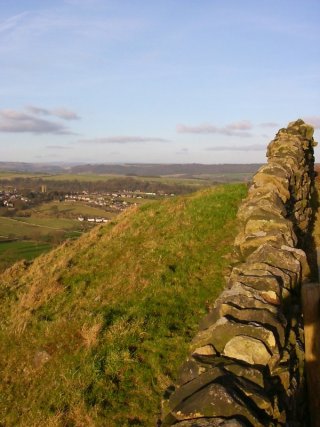 After leaving the cycle route and finding Middleton via Green Lane, a path takes you sout-east for some most amazing views.
---
blog posts about this walk:
---
View the route
The link to the right will show you an interactive map with the route shown on it, provided free to you at this level of detail by the lovely folk at OS. The detail on it will be the equivalent of the Landranger map (1:50,000). For the full detail and a map you can carry around the walk with you, you will need an explorer (1:25,000) map. Please use the link below to buy a copy.
---
This walk uses Ordnance Survey map Explorer OL24 (White Peak)