Viking Way: Stixwould to Bardney
Distance: 6.5 miles
Terrain: mostly surfaced and flat.
View / download the route
map: Ordnance Survey Explorer 273 (Lincolnshire Wolds South)
My last walk: 10 Aug 2022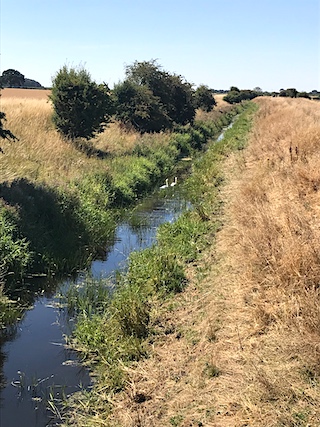 This is a linear route, which means that you will need to either walk the route and then retrace your steps (doubling the length of the walk) or arrange transport from one end to the other, or arrange to be dropped at one end and collected at the other. The route goes between two towns which each have parking. For a slightly longer walk, Start / finish at Woodhall Spa, just south of Stixwould. It is a very nice town with plenty of points of interest and good parking.
For my last walk, we started at Stixwould, outisde St Peter's Church. The road out of Stixwould, Duckpool Lane, is narrow, bendy and has no pavements, so take great care.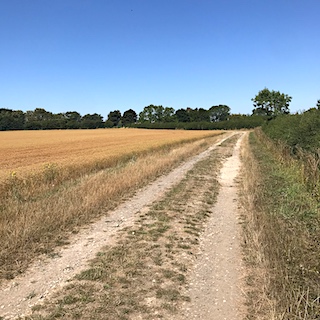 After just half a mile beyond Stixwould, you're crossing fields. The number of "Abbey Farms" with ruined abbeys along this walk is remarkable, with one particularly interesting one at the end. As you can see in this picture, the surfaces are generally very good, easy walking.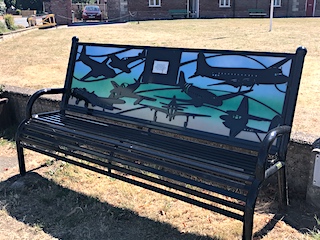 Once in Bardney, there are links with "IX(B) Squadron" and some nice memorial seats. Bardney has a well-stocked convenience store.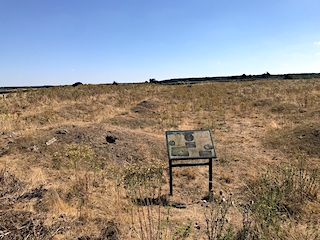 If you follow the Viking Way out of Bardney and then follow signs to Abbey Farm / Bardney Abbey, The abbey ruins are a real treat. The site is ancient and there are many information boards telling you about the history. Some of the stonework remains, but is largely beneath mounds which mark the outlines of the buildings. This abbey has its own permissive car park,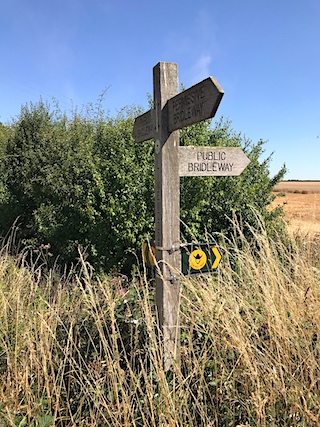 The Viking Way is mostly very well-marked with fingerposts and the yellow Viking disc. Most of this walk is on reasonably obvious footpaths but we did notice on part of the walk we did lose the Vikings for a little bit even though we were on public footpaths and were sure that we were on the Viking Way. so keep your wits about you and your map to hand.
Some of this route is on road. Take the usual precautions and stay safe.
---
blog posts about this walk:
---
View / download the route
Below is an interactive map with the route shown on it, which you can make full-screen. To take a paper map with you at the best detail, you will need an explorer (1:25,000) map. Please use the link below to buy a copy. Below the map is a link to download the GPX file which you can open in many mapping and navigation apps, including OsmAnd (Open Street Map) and OSMaps (Ordnance Survey)
Download GPX file for the Viking Way: Stixwould to Bardney for use with other websites or your handheld device (right-click to save file)
---

This walk uses Ordnance Survey Explorer 273 Lincolnshire Wolds South
1:25,000 scale map Lincolnshire Wolds South. Click the thumbnail for more information
Note that OS paper maps now include the digital / mobile map, downloadable and viewable *offline* in the OSMaps app. The routes provided on these pages in GPX format will open and display over the digital mapping in the OSMaps app.
View Ordnance Survey Explorer 273 Lincolnshire Wolds South at Amazon