Tryfan Circular Walk
Distance: 5 miles
Terrain: climb to 900m
Location: Conwy, Wales
map: Ordnance Survey Explorer OL17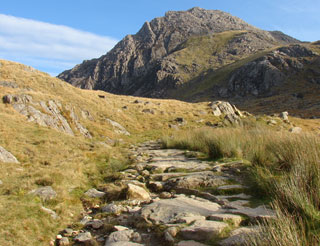 Tryfan joins Bristly ridge and other peaks in the Glyder range; Glyder Fach, Glyder Fawr. The climb is not for the faint-hearted or inexperienced because it's impossible to finish without scrambling (climbing over or up rocks using all four limbs). It and ascends to 3,000 ft (915m)
This walk climbs Tyfan to the top and views the Glyders before descending.
There is a visitor centre with refreshments and toilets close to my start / finish point, but my preference is to start / finish the walk at a lay-by little further along the main road. (see map below)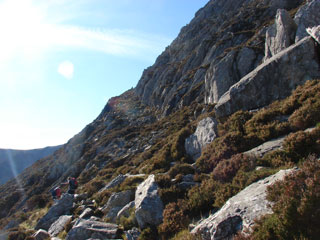 After an initial steep climb, this walk uses the heather terrace which is a more gentle climb to the top. You can see the heather terrace about half-way up the side of the hill in this picture. It's quite an obvious path when you find it. It curls around the north side of the hill.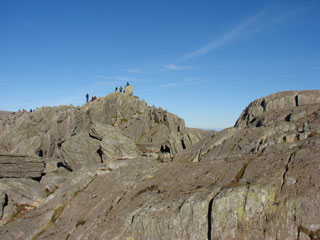 Then you'll then find yourself scrambling over big rocks to the peak. Enlarge this picture to see the big square rocks Adam and Eve in the distance. There are no paths at this point, just find the best way over these big rocks.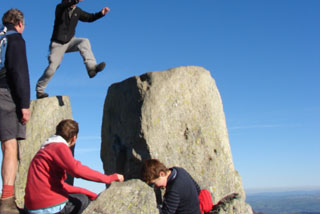 I don't recommend jumping Adam and Eve, though you may see other people doing it.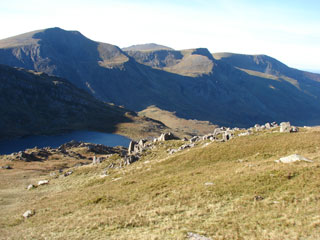 For a different route down, I suggest passing Llyn Bochlwyd (which is the shape of Australia). You'll see it from the top. Retrace your steps to the saddle between Tryfan and Bristly Ridge and then head down to the right towards the lake. You'll then pick up a flagged stone path beside the lake. It looks a long way down to it from the top of Tryfan, but once there, it's still a long way down to the road. Cross the lake's outfall and the path will take you down to the visitor centre. Keep to the right of the stream that comes out of Bochlwyd. There's coffee, food and toilets at the visitor centre and then it's a short walk along the road back to the start point.
---
View the route
The link to the right will show you an interactive map with the route shown on it, provided free to you at this level of detail by the lovely folk at OS. The detail on it will be the equivalent of the Landranger map (1:50,000). For the full detail and a map you can carry around the walk with you, you will need an explorer (1:25,000) map. Please use the link below to buy a copy.
---
blog posts about this walk:
---
Photos on Flickr:
---
This walk uses Ordnance Survey map Ordnance Survey Explorer OL17