Lindsey Trail / Viking Way Circular Walk 1
Distance: 8.5 miles
Terrain: first half flat, second half 500ft elevation gain
View / download the route
map: Ordnance Survey Explorer 282 (Lincolnshire Wolds North)
My last walk: 4 Jun 2021
I suggest parking in Walesby. Its village hall is signposted and the car park appears to be free. There are only a few spaces, so if it's full, find roadside parking on the Moor Road out of Walesby. Failing that, an alternative start/finish for this walk is just after where Moor Road crosses the railway line (TF105920).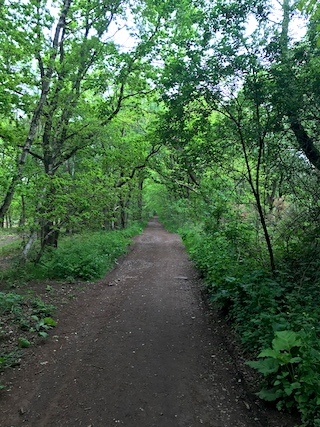 Take the Moor Road out of Walesby for a mile or so to the railway level crossing. Just the other side of the track, join a forest path. This is part of the Lindsey Trail, which is designed to be accessible. Therefore, for the first half of this walk, the paths are surfaced and easy to walk. After a short distance a bridge crosses back over the railway line.
There is a short piece of road, look out for the large obvious entrance into Willingham Woods. There are many large and accessible paths through this wood. The path that I have marked meets a public right of way at TF135889. This public footpath goes through Dairy Farm. There are 'Private' signs as well as yellow discs which mark the right of way. Take care to stick to the right of way, which leads past the house and into open fields. At that point a footpath leads across fields to Tealby, but my preferred path is along the farm track, picking up a different right of way at TF146892. It's not clear whether the track is public. You should end up in Tealby and on Tealby's Rasen Road, pick up the Viking Way, which is our path back to Walesby.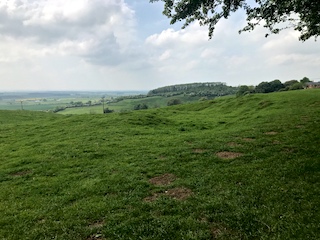 Viking Way is not wheelchair-accessible, it is very different walking to the first half of this circular walk. The paths are well-signposted. It has some steep ascents / descents and your reward is some stunning views.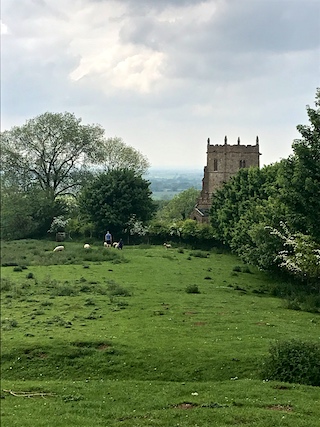 It's easy to follow the Viking Way discs back to Walesby.
---
blog posts about this walk:
---
View / download the route
Below is an interactive map with the route shown on it, which you can make full-screen. To take a paper map with you at the best detail, you will need an explorer (1:25,000) map. Please use the link below to buy a copy. Below the map is a link to download the GPX file which you can open in many mapping and navigation apps, including OsmAnd (Open Street Map) and OSMaps (Ordnance Survey)
Download GPX file for the Lindsey Trail / Viking Way Circular Walk 1
---
This walk uses Ordnance Survey Explorer 282 Lincolnshire Wolds North
1:25,000 scale map Lincolnshire Wolds North. Click the thumbnail for more information
Note that OS paper maps now include the digital / mobile map, downloadable and viewable *offline* in the OSMaps app. The routes provided on these pages in GPX format will open and display over the digital mapping in the OSMaps app.
View Ordnance Survey Explorer 282 Lincolnshire Wolds North at Amazon