Ivanhoe Way - Leicestershire Circular Walk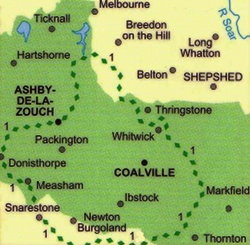 Distance: 36 miles
Time: The Ivanhoe Way challenge is to complete the route in under 15 hours.
Terrain: A wide variety of terrain - open country and crop fields, hills, woodland, canal towpath, dismantled railway, road and the odd housing estate.
Starting location: Anywhere en route, suggest [Ashby de la Zouch, Leicestershire]
Map: Route is marked with green diamonds on Explorer 245 (National Forest)
My last walk: 2nd October 2011
The notes below are to accompany you, not to guide you. Use a paper map, preferably 1:25,00 (Explorer 245 (National Forest))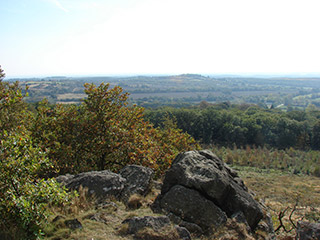 The Ivanhoe Way is one of Leicestershire's long-distance paths, created by Leicestershire County Council and the Leicestershire Association of Parish and Local Councils, to celebrate the centenary of civil Parish Councils in 1994. At 36 miles, it's possible to do in a single day, but in mid-summer if you want to do it all in daylight. it's also possible to do as a series of shorter walks.
Ivanhoe Way Challenge - If you'd like to join an organised group and raise money for charity at the same time, you could join the Ivanhoe Way Challenge usually in June. More about this event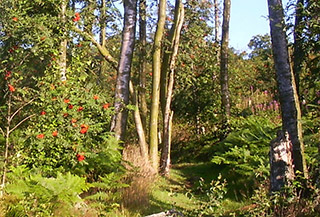 The largest towns the route passes through are Ashby de la Zouch and Measham. They're fairly close together and will be the best places for topping up on provisions. Ashby has a large number of shops and public toilets (at the bottom of the town close to Somerfield supermarket). Ashby may be a convenient place to start / finish, as it has good car parking.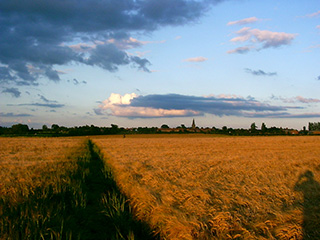 The route is clearly marked on Explorer 245. Pubs en route are also shown on the Explorer map. There's also a good guide available from Leicestershire County Council. This used to cost a pound, but I see that it's now free - unfortunately not available for download - you have to contact them or visit one of their TICs for a printed copy. It's also well worth printing off a copy of their web page as it lists some erata and updates to the maps and leaflet: Ivanhoe Way at Leics County Council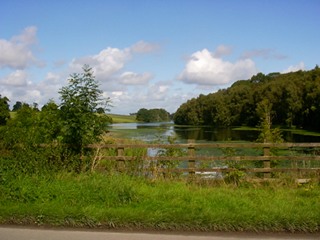 The route passes convenience stores at:
Here are my own comments which I'd add to Leicestershire's list. (Note that LCC's comments are written from the point of view of walking the route clockwise, I've written mine as I walk anti-clockwise.)
And my tips.
Plan to be out for at least 15 hours - this means doing the walk as close as possible to midsummer (mid-June) or navigating in the dark.
Take a torch with you even if you plan to finish in daylight. It could easily take longer than you expect.
Take a map. Never navigate using wayposts only.
As you pass through Ashby, look for 'Memory Lane Sweets' and buy one of their delicious ice-creams.
Provisions can also be bought in Ashby, Measham, Thringstone, Stanton and Moira Furnace.
Ashby has public toilets.
blog posts about this walk:
---
This walk is marked with green diamonds on Ordnance Survey map Explorer 245 (National Forest)
Free audiobook with 30 day trial: