Blackfordby Spire Circular Walk
Distance: 7.2 miles
Time: 2.5 hours
Terrain: some gentle inclines, stiles
Starting location: Shellbrook, Ashby de la Zouch, Leicestershire
Map: Explorer 245 (National Forest)
My last walk: 6 November 2011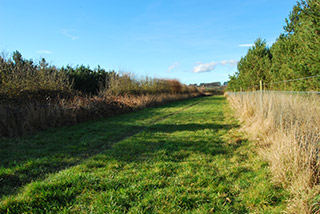 Almost from the start you can see Blackfordby spire, which remains visible for most of the walk. The beautifully-shaped spire looks black in sillhouette from a distance, but it really is quite black.
Here I'm suggesting Shellbrook as a starting point - SK342166 Here, just outside Ashby de la Zouch on the Moira Road is a convenient lay-by and the walk will start by going through Prestop Wood, part of the National Forest. I've watched these now adolescent trees grow and it's so good to see them way above head height now.
From the lay-by, enter the wood through a gate and walk straight towards Blackfordby church spire. At a hedge, turn 90 degrees to the right and again walk as far as possible.
Go through the gate. If you have time, there's a path in front of you which takes you up a steep hill to a viewpoint. You can follow a semi-circular path to join our route. If you don't do this, just turn left at the gate. You'll again be facing the spire and can walk in a straight line right up to the church.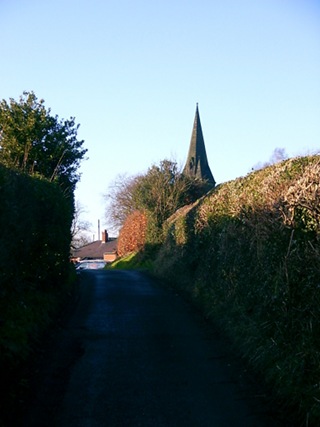 When you arrive at the church you'll have to cross a road and pick up a path on the which goes alongside the church and a playground. Walk due North past the houses. There have been some changes to the footpaths here, so what's on the ground may not match up with your map. At time of writing, new maps are not showing a right of way from here out onto the fields, but there's a new gate with a waymarker disc pointing the way.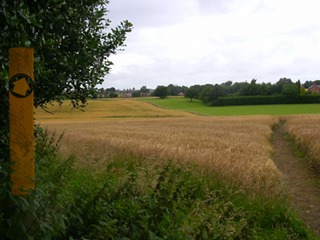 When you're out into an open field, depending on the time of year, the paths may be obvious, but are often not. You're heading across the fields on a bearing just north of west (about 280 degrees) keeping the farm house on your right. Half way across the field you should see the next yellow post. You'll come out on a farm track.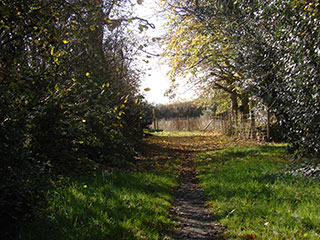 The path does continue across the track and into the next field, but we'll use the track to get out onto Butt Lane. The roundabout just in front of you is very new and may not be on your map, so don't let it confuse you. Walk North along the road for 100 yards and you'll see the footpath finger post to your left. Take this footpath.
You'll have to cross a road, which again is new and may not be on your map. After passing some houses, you'll see a small field on your left which often has some horses in it. Walk around three sides of this field.
From here, you'll zig-zag around the edges of fields, crossing another new road. You'll really need to concentrate on the map - I've found that it's difficult or impossible to follow the waymarkers here. You'll be heading generally south (south west / south east) and eventually onto Gorse Lane and out onto a road.
Turn left at the road (roughly South). It's quite busy, but has a pavement for the few hundred yards you'll be on it.
You'll walk past an entrance for Conkers discovery centre which is well worth a visit if you have time.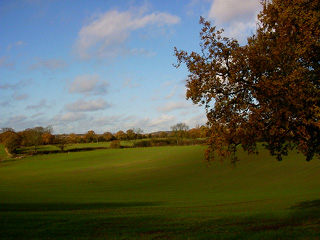 Look out for the footpath on your left. It's usually well-hidden in the bushes. It's right at the bottom of a dip, just before some factories.
Cross fields heading roughly north east for a mile or so. I particularly enjoy this part of the walk, it feels quite remote. You'll eventually come to a road and you'll be in Blackfordby once again. Head North back towards the church, and from there, re-trace your steps back to Shellbrook.
---
This walk on Flickr
---
Blog posts
---
View / download the route
Below is an interactive map with the route shown on it, which you can make full-screen. To take a paper map with you at the best detail, you will need an explorer (1:25,000) map. Please use the link below to buy a copy. Below the map is a link to download the GPX file which you can open in many mapping and navigation apps, including OsmAnd (Open Street Map) and OSMaps (Ordnance Survey)
Downlod the GPX file for use with other websites or your handheld device
(right-click to save file)
For the full detail, you will need an explorer (1:25,000) map. Please use the link below to buy a copy.
---

Ordnance Survey Explorer 245 The National Forest
1:25,000 scale map incuding The National Forest, South Derbyshire, Burton upon Trent, Swadlincote, Ashby de la Zouch, Coalville. Both of South Derbyshire's reservoirs, Foremark Reservoir and Staunton Harold Reservoir. The whole of Ivanhoe Way is clearly marked.
Note that OS paper maps now include the digital / mobile map, downloadable and viewable *offline* in the OSMaps app. The routes provided on these pages in GPX format will open and display over the digital mapping in the OSMaps app.